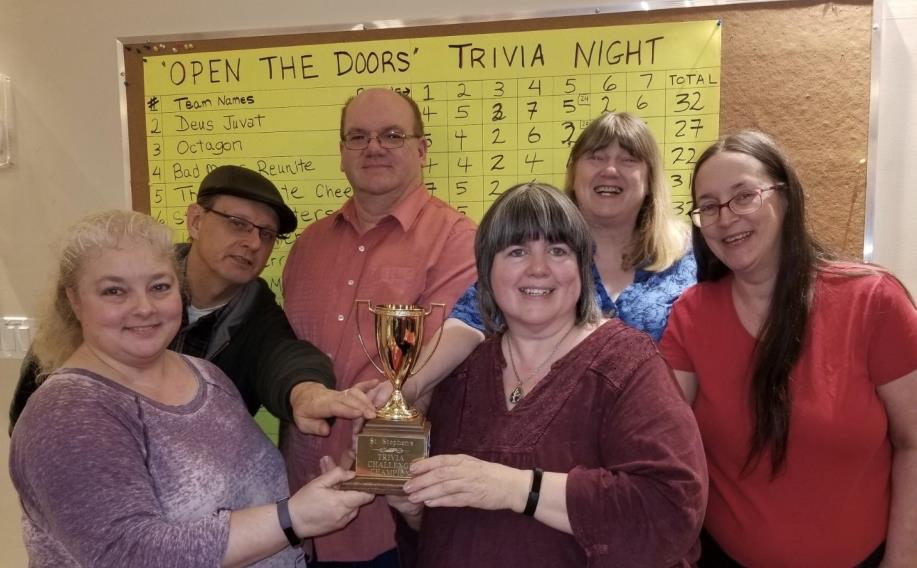 On Saturday, January 26th, St Stephen's hosted their first Open the Doors Trivia Night fundraising event. Tickets were sold out and thirteen tables of 8 players each competed, answering general knowledge questions called out by quizmaster, the Venerable Philippa Segrave-Pride, Archdeacon of Lougheed.
While having fund and supporting St Stephen's was reward enough for many -- one team did win bragging rights (and a small prize) plus their team name on our trophy. The winning team was "The Village Vagrants" beating "The Winning Team" by just one point. On The Village Vagrants were two St Stephen's parishioners - Lois Holmlund and her mom, Lydia. Lois, as our Parish Administrator, has the great advantage that she can check out the trophy any time she's in the office.
The night raised $2,000 towards the replacement of the doors to our worship space.
Keep an eye out for notices of next year's Trivia Night and see if you can beat the The Village Vagrants for the title!