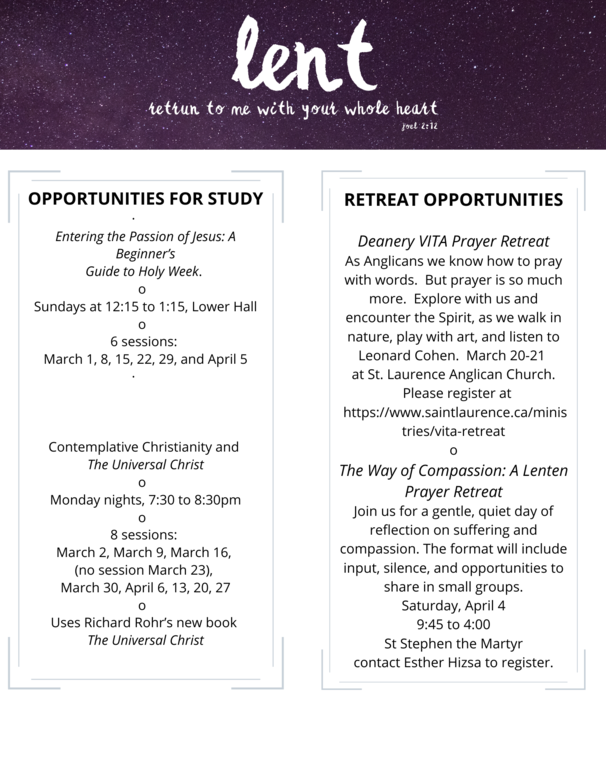 For Lent this year, St Stephen's is holding two different book groups.
On Sundays, after worship, we will explore Amy-Jill Levine's Entering the Passion of Jesus. This book is great if you are someone who has many questions about the significance of the events of the Holy Week and Easter Day. You can learn more about the book here. At that same link, you'll also find a video of the author talking about the themes from chapter one.
Our second group will tackle The Universal Christ, Franciscan author and contemplative Richard Rohr's newest book. For 8 Mondays at 7:30pm, we will explore Rohr's fascinating thoughts about how "Incarnation is the oldest Christian story. Through Christ, God is pouring God's self into all creation. To be Christian, then, is to see Christ in every thing." The Universal Christ is a deep read and participants might find the additional resouces on the Center for Action and Contemplation's website.
In addition to these book groups, there are two opportunities for retreat during the Lent season. The Vita Retreat at St. Laurence in Coquitlam is an opportunity to explore various forms of prayer. St Stephen's is hosting a SoulStream retreat focusing on how our suffering is met by God's compassion.
Contact the church office if you have additional questions.